Music for Global Change
Global Change Music is music for global change, but we believe it will take more than just the music. As a multifaceted nonprofit record label, Global Change Music encourages taking personal action against the broken systems of the world.
A Lifestyle for Global Change
Global Change Music lyrics speak of taking action against any form of injustice where the people are oppressed. Global Change Music promotes sustainable living, which includes growing your own organic food, building green, permaculture, sharing services and goods (trade and barter), and having a protective environmental consciousness. The music itself can be any genre, however, the musicians must live their message of national and international radical changes.
A Social Service Program for Global Change
Global Change Music nonprofit record label makes grants of housing, instruments, and recording opportunities available to hopeful, promising student musicians from around the world who may not otherwise have the opportunity to develop as musicians in the arts. Our philosophy is based upon the wholeness of developing the complete personality—physically, mentally, emotionally, and spiritually. Musicians have access to a state of the art recording studio, Future Studios, in Southern Arizona.
Radio for Global Change
KVAN Visionary Radio features the music of Global Change Music artists, broadcasting from Tucson, Arizona on 91.7 and streaming globally at kvan.fm. KVAN Studios are headquartered at The Sea Of Glass—Center For The Arts, just off of 4th Avenue on 330 E 7th Street.
KVAN makes it their mission to provide an outlet for alternative voices of the world, and feels responsible to provide the highest quality programming, featuring conscious music and enlightened conversation. Radio is media's best-kept secret for global change. Because it has the ability, quite literally, to make waves in our world, KVAN feels responsible to broadcast sounds that reflect truth, beauty, goodness, and love — the same principles that direct Global Change Music.
A Venue for Global Change
In addition to housing KVAN Studios, The Sea Of Glass—Center For The Arts serves as Global Change Music's nonprofit venue in Tucson, Arizona for live music performances and conerts. The venue has been carefully designed to capture the spectrum of subtleties and fullness of sound and light that bring the most intimate and satisfying of experiences to the audience, while allowing the performers and artists a close connection with that same audience in an intimate setting. The interior is designed to be sacred and pure while state of the art equipment enhances the thrill of seeing an excellent artist perform a great show. The Sea Of Glass welcomes all as a safe and friendly venue for the whole family. Learn more about the Sea Of Glass—Center For The Arts.
Networking for Global Change
Global Change Music also runs The Musicians-That-Need-To-Be-Heard Network, a brother/sister music union of true solidarity. The main objective of the Network is to help artists that aren't necessarily on the Global Change Music label to meet their destinies and use their Creator-given talents for the betterment of humankind. Members of the Network receive numerous benefits including discounted rates on Global Change Music's top-quality management and production services.
TaliasVan: A Leader for Global Change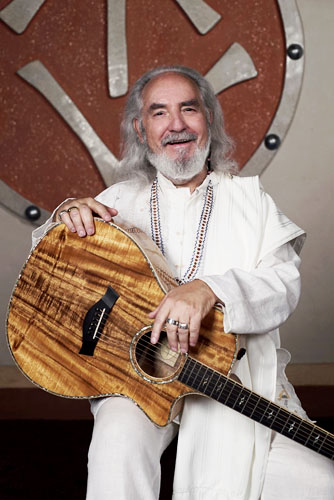 "It is the hope of Global Change Music to sign artists who are vocalists and songwriters, who write higher consciousness messages, and who have something positive to say. Higher consciousness music does not have to be boring or rote. It is the intent of Global Change Music to bring the fusion of the highest of melodic sounds with the highest of consciousness lyrics in the hopes of uniting all of humanity into common truths in the understanding of the Creator and true reality. There is a place for all forms of music, but all forms of music are not necessarily beneficial to humanity. In order for music to be truly of eternal value, the artist must be truly of eternal value—for music is the expression of the spirit of man/woman. If that spirit is filled with love and compassion, that is heard in the music. If that spirit is filled with anger, that too is heard in the music. If that spirit is filled with triteness, that also is heard in the music. It is easier to write beautiful words than to live them. A musician who wants to make a difference on this planet needs to walk the walk that he or she writes about."

~ TaliasVan, founder of Global Change Music
Dear TaliasVan,
I cannot imagine this world without you, and I see you as strong, a very strong man, because for 72 yrs of age you have the life force like a 29 year old powerful warrior, not to mention your foundational "Peter the Rock " knowledge and Wisdom. And not to mention your very loving and kind coaching to each one of us, that can sometimes come with a voice that shakes the nonsense out of us ....!!!

Your music is real, its about real life's situations, and you show the listener, how to never let go of God during any difficult time. To me your music is the "Manna from heaven." You take us to the depths of facing real pain, to the heights of the mysticism of God, to getting Country on the Planet Mars, and back down to Earth with lines like "Woke Up this morning feeling like Norman" and "Grandma Cotrell's just a snoozing..."

And you always give a great amount of honor in recognizing activists that have put themselves on the line to serve their people, like Ken Saro Wiwa or in the "Planetary Brother Sister song", when you show honor and recognition to the many leaders of great movements that have encouraged their people to "Rise Up".

You have risen each one of us out of the ashes ... over and over.

I owe it to you, to become spiritually professional for this Music Ministry.

Love Willowela [background vocalist of the Bright & Morning Star Band]
Global Change Music: CosmoPop
CosmoPop is TaliasVan's unique form of Global Change Music performed with his Bright & Morning Star Band; spiritually hip, vocal music which masterfully touches your soul because it covers the experiences that are common to all humanity. This music brings the spirit of God to the souls of people in a variety of music styles and uplifts them and gives them hope of a new and better world to come. Spanning various styles such as CosmoRock™, CosmoCeltic™, CosmoFolk™, CosmoJazz™, CosmoMystic™ and CosmoCountry™, TaliasVan's vocal styles are a magical experience. The music incorporates various modern rhythms and moods with future expressions. It bonds spirituality with sexuality. It opens the memory circuits of starseed. It is "Music of the future for minds of the future,"™ proving that spiritual music does not have to be rote, churchy, or square and that a spiritual person can still be hip.